Ambra Vallo e Leon London: Rocket Yoga Intensive Retreat
Le Torracce – Agriturismo Olistico – Umbria – Italia
22 – 29 July 2018
"Relax, breathe, and go with the Flow"
Larry Schultz
Rocket Yoga Intensive Retreat "From The Base Step By Step"
A week full of Yoga (Rocket yoga!), wellness and relaxation in the wonderful context of the Agriturismo Olistico Le Torracce, located in Umbria.
6 hours of practice per day (divided up into 3 hours in the morning and 3 in the afternoon) with Ambra Vallo and Leon London, two very special teachers that will guide you in this path accessible to each and every yoga students.
The retreat is structured to lead you to the discovery and practice of Rocket Yoga 1 and 2 step by step, starting from the basics. The sequences will be studied and split up to gradually get you to the most complex transitions.
"Come 'think light to be light'"
Larry Schultz
At the end of the week a certificate of participation will be issued.
(valid for 35 hours of practice in the training course of Studio Yoga – CSEN)
Rocket yoga was born in 1980 in San Francisco (California) thanks to Larry Schultz, former pupil of Pattabhi Jois and know as "The Bad Boy Of Ashtanga". He reinvented the first, second and third series of the Ashtanga Vinyasa Yoga, adding some key asanas from the fourth serie: Rocket yoga is a constant and fast flux which articulates on three levels (Rocket 1, Rocket 2 and Rocket 3).
The practice in Vinyasa, sustained by the Ujjay breath, focus on stretching postures, strenght, balance and relaxation. The lessons, which last one hour and a half, leave you with a purified body and a lighter mind.
Rocket yoga is a dynamic form of yoga focused on the synchronization between movement and breath, with the final goal of awaken the body and the mind. it is a discipline which starts form an innovative approach to the classical system of Ashtanga Vinyasa Yoga, making it funnier and more challenging but, above all, open to everyone, from beginners to experts.
Provisional program (TBC)
Sunday, 22 July 2018
– h 14.30
– Welcome and registration
– h 17 – 20
– Introduction to the Retreat
– Pranayama
– "Easy" Rocket Yoga
– Breakdown of the poses
– Meditation or Yoga Nidra
– h 20.30 Dinner
from Monday the 23rd to Saturday the 28th
– h 6.30 – 9.30
– Kriya and Pranayama
– Rocket Yoga 1 o 2
– Meditation
– Breakdown of the poses
– h 9.30 Breakfast
– Free time
– h 13 Lunch
– Free time
– h 17 – 20
– Pranayama
– "Easy" Rocket Yoga
– Breakdown of the poses
– Meditation or Yoga Nidra
– h 20.30 Dinner
Sunday, 29 July 2018
– h 6.30 – 8
– Last practice
– h 8.30 Breakfast
– Free time
– h 13 Lunch
– Retreat conclusion
The cost of the retreat is € 600 + € 30 for Studio Yoga Card
At the cost of the Retreat, you have to add the cost for food and lodging to the Holistic Agritourism Le Torracce, which varies depending on the type of accommodation you choose.
[contact-form-7 id="3148″ title="MODULO YOGA RETREAT 2018 english"]
You can choose the accommodation you prefer by directly contacting the structure
LE TORRACCE – AGRITURISMO OLISTICO
Accommodation costs
(The price is per day and includes full board, two tea-breaks (mid-morning and mid-afternoon) and use of the outdoor pool. The menu is vegetarian.):
single room accommodation 105 euro

double room accommodation 85 euro

triple room accommodation 70 euro

quadruple room accommodation

65 euro

quintuple room accommodation 60 euro
Visit Le Torrace website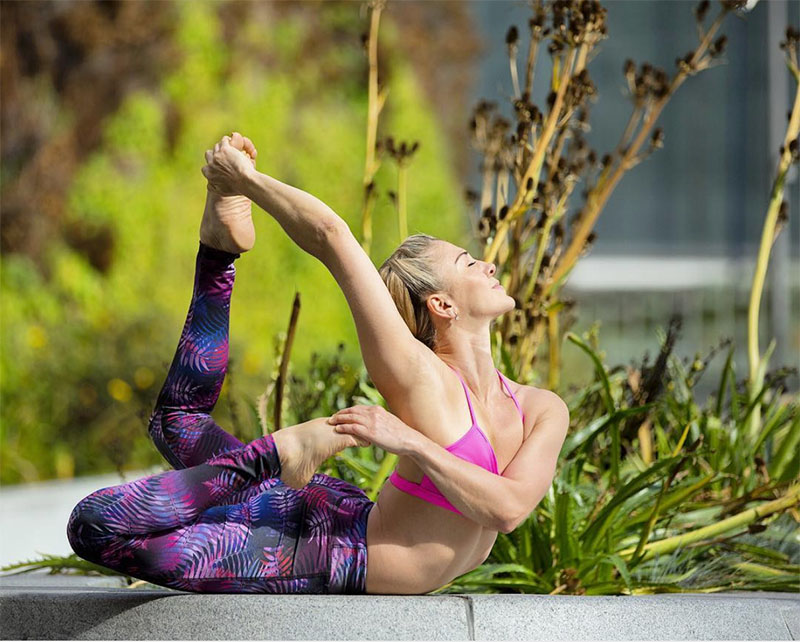 Ambra Vallo is a former principal ballerina with the Birmingham Royal Ballet. Throughout her career she enjoyed the chance to perform on stages all around the world. She turned to yoga on a path to recovery from injuries that naturally result from the strenuous training regime, and as well as becoming a hobby she also credits it with helping to enhance and prolong her career. Slowly over the years she fell in love with the more subtle, spiritual parts of the practice. Retiring from dance allowed her the time to focus on her passion and to undertake further training in Ashtanga Vinyasa (500hrs), Dharma Yoga (800hrs), Rocket Yoga (500hrs), Forrest Yoga (200hrs and Advance TT), Tripsichore (200hrs), and Gokul Vinyasa Yoga (300hrs).
Ambra's teaching is fun and spontaneous following the lineage of Larry Shultz, Ana Forrest, and Sri Dharma Mittra. Since she retired from professional ballet she has been teaching regularly in teacher training courses, has worked with performers and athletes helping to rethink their traditional training regimes and introduce yoga to drive better performance and increase their enjoyment of sport and performance. Her aim is to guide others so as they may also experience the many amazing benefits of yoga to the body, mind and soul.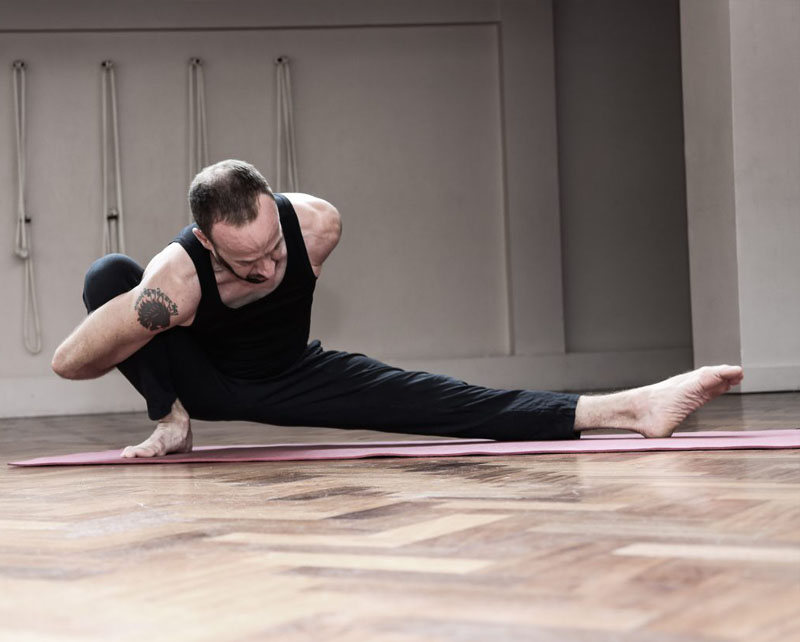 Leon London's yoga story started 20 years ago. His first practice was with Billy Doyle (BWY) and this was the beginning of a lifelong passion. Involved in martial arts from an early age, Leon has always been intrigued by the possibilities and potential of the body. This eventually led him on his journey to study many forms of physical culture; from boxing to capoeira. Leon has studied Kashmir hatha, vinyasa flow, Ashtanga and rocket/progressive Ashtanga yoga.
Leon undertook Ashtanga teacher training with David Swenson, then with David Kyle (Ashtanga Puerto Rico), and Jamie and Dulce (the yoga people). Leon's students enjoy his vast knowledge of the body gained from over 20 years of experience and the fun friendly inspiring classes he shares with them. Leon also conducts successful workshops with Marcus Veda, and retreats with Ambra Vallo. He continues to teach a committed following of students in classes across London.
5 good reasons to enroll to a Yoga Retreat
1. PER DEDICARE DEL TEMPO A TE STESSO/A
C'e una differenza enorme tra andare in vacanza e partecipare ad uno yoga retreat. Lo yoga retreat è centrato sul fare un passo indietro, portare l'attenzione all'interno, permettere a voi stessi di concedervi del tempo per voi. Le vacanze sono centrate attorno al "fare", mentre uno yoga retreat e' semplicemente centrato sull' "essere". In vacanza ci si trova spesso a fare compromessi su dove andare e cosa fare, mentre in un retreat ci si concentra ad ascoltare i propri bisogni e rispettare i propri tempi.
In un retreat si è incoraggiati a lasciare fuori lo stress quotidiano e il resto del mondo e concentrarsi sul "fare" meno ed "essere" di più. Prendersi del tempo per voi stessi vi farà sentire ricaricati, inspirati e profondamente riposati. Un retreat può anche aiutarvi a riacquistare chiarezza e magari a trovare risposte a domande che stavate cercando da tempo.
2. PER PORTARE LA VOSTRA PRATICA DI YOGA AD UN NUOVO LIVELLO
Che pratichiate da anni, da mesi o abbiate appena iniziato, sicuramente uno yoga retreat vi permetterà di portare la vostra pratica ad un nuovo livello. La maggior parte dei retreats includono due lezioni di yoga al giorno, che di per se già vi farà guadagnare forza, flessibilità e aumenterà la consapevolezza con cui praticate più di quanto potete immaginare. Il regalo più grande che un retreat vi farà è quello di farvi uscire dalla vostra zona di comfort. In un retreat sarete in un ambiente nuovo, circondati da nuove persone e magari anche nuovi insegnanti e la giornata si focalizzerà sulla vostra pratica di yoga. É il momento perfetto per sganciarsi dalle abitudine, da quello che pensiamo di poter fare o no ed esplorare nuove possibilità.
3. PER FARE AMICIZIA
La cosa bella di partecipare ad un retreat è che si conoscono nuove persone che condividono simili interessi e l'esperienza spesso rende il gruppo unito, permettendo di creare amicizie che durano oltre la vacanza.
4. PER IMPARARE COSE NUOVE
Spesso i retreats non solo vi permettono di praticare yoga, ma anche di esplorare lo stile di vita di uno yogi. Per esempio, a volte si includono nozioni di Ayurveda, alimentazione naturale, filosofia dello yoga e meditazione.
5. PER DISINTOSSICARSI DALLO STRESS QUOTIDIANO
Volete ripulire corpo, mente, cuore e anima? Iscrivetevi ad uno yoga retreat.
Avrete l'opportunità di mangiare del cibo delizioso e purificare il corpo; la pratica dello yoga si prenderà cura della mente e delle emozioni e potreste anche trovare tempo per dialogare con la vostra anima.
L'obiettivo principale di uno yoga retreat è quello di farvi sentire molto, molto bene in tutti i sensi, per cui indipendentemente da quali siano le ragioni che vi spingono a partecipare, vi lascerà riposati, rilassati e ricaricati.  E vi ispirerà a incorporare nuove cose nella vostra routine quotidiana una volta tornati a casa.
6. MOTIVO BONUS: TE LO MERITI!
Facciamo sempre cosi tanto per gli altri senza fermarci un attimo a dedicare tempo a noi stessi e ricaricarci.
Non ci pensiamo due volte a comprare qualcosa per una persona a cui vogliamo bene, ma ci pensiamo due, tre, anche quattro volte prima di fare qualcosa di speciale per noi.
Tu più di chiunque altro ti meriti di prenderti cura di te… e ricorda che se tu non sei felice, in salute e ispirato/a, non puoi rendere le persone che ti circondano felici, per cui regalandoti un momento per te stai allo stesso tempo facendo qualcosa di buono per chi ti circonda.